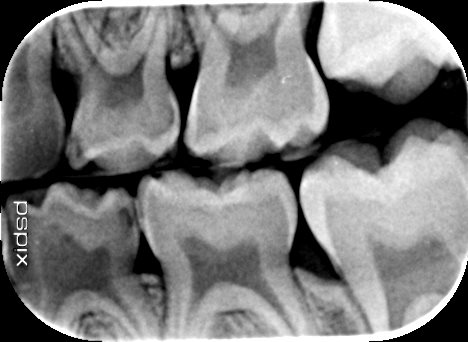 Many parents ask whether it's safe to use x-rays on children's teeth, and are unsure of the reason an x-ray may be needed.
While dentists can see the outside of your child's teeth, x-rays allow us to see between the teeth and under the gum line. X-rays help the dentist to see:
See how your child's teeth are erupting,
See the number, position and size of teeth under the gums, in case teeth are crowded, delayed or under-developed,
Monitor any injuries or infections to the mouth and teeth, and
Prepare for any orthodontic treatment.
The need for a dental x-ray will vary according to your child's development and dental health. If your child has had a high degree of tooth decay or a lot of fillings, your dentist may recommend more regular x-rays so they can monitor the progression of any further decay. If your child's teeth are healthy, x-rays will be less frequent, perhaps only every 18 months. If x-rays are not taken when needed, your child's dental health and any problems can worsen.
Modern x-rays are considered safe for children as they are only exposed to a minimal amount of radiation. Some x-ray machines use a tunnel beam, which means exposure to radiation is extremely localised and minimal. It is usually recommended that these are taken only every 12-18 months unless severe decay is detected. These x-rays are digital, which reduces radiation by as much as 80%. They are quick, painless and safe for children. Dentists can process and develop the x-rays on the spot and can see the image immediately, so any necessary treatment can commence quickly.
If your child hasn't had a check-up recently or has never had x-rays taken, contact your local My Kids Dentist to ensure your child visits a dentist who specialises in treating children.