Brushing Teeth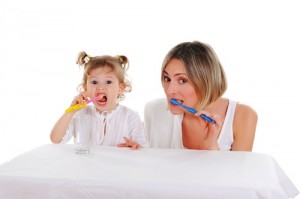 When Should I Start Brushing my Baby's Teeth?
Your baby will get their first tooth around 6 months of age, and it's important to clean their teeth as they come through. Brushing teeth can be a challenge when their teeth are so tiny. You can use a small soft toothbrush or a small brush that fits onto your finger (finger brush) or a very clean face cloth to wipe over the teeth.
When your baby gets more teeth you may want to use a small toothbrush instead of a finger brush or clean cloth. This will reduce the chance of your fingers getting in the way when brushing teeth. Make sure the brush is designed for babies and don't use toothpaste, just water.
When Should My Child Start Using Toothpaste?
Once your child reaches 18 months of age, you can add a small amount of children's toothpaste. The toothpaste contains important fluoride to strengthen their teeth, but you'll need to ensure they spit it out. Adult toothpaste can be too strong for young kids, but they should be able to use it from around 6 years of age.
How Should My Child Brush Their Teeth?
You should get your child brushing their teeth twice daily for 2 minutes each time, and they'll need your help until they're old enough to brush by themselves. Get them to brush with you or with an older sibling, so they can see how to hold the brush and move it around their mouth.
Getting a young child to brush for the whole 2 minutes can be challenging, so we have a few tips:
Get them involved by selecting their own kids' toothbrush in their favourite colour or character
Distract them by singing a song or getting them to hold a toy whilst brushing teeth
Use a tooth brushing chart (available to print from the internet) and your child can mark off when they brush morning and evening
Use a tooth brushing app or timer and get them involved to make it fun
You could also use a reward to motivate them to brush twice daily every day, but often a "well done" is often sufficient encouragement
Unless they develop the dexterity to brush themselves, you may need to brush as well to ensure their teeth are clean.  Once they are 8 years old, they should be able to brush by themselves.
Some kids find brushing more enjoyable if they use an electric toothbrush. Using an electric toothbrush can sometimes improve the oral hygiene and time spent on brushing.